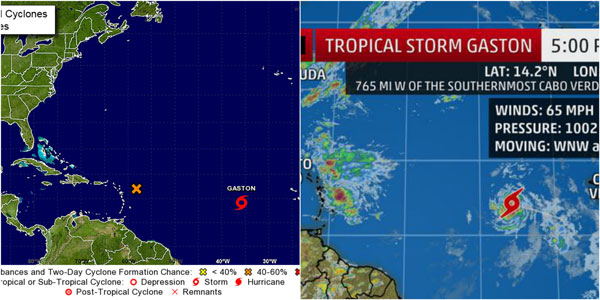 Tropical Storm Gaston is likely to strengthen into a hurricane soon.Tropical Storm Gaston has developed quickly in the far eastern Atlantic Ocean and is expected to become a hurricane by Wednesday.
Gaston was centered about 765 miles west of the southernmost Cabo Verde Islands, as of Tuesday afternoon, and was moving quickly to the west-northwest.
In general, the atmospheric steering pattern in the Atlantic Ocean through late this week suggests Gaston will eventually get drawn northwest into the central Atlantic Ocean.
Tropical forecasts beyond five days are fraught with uncertainty. We can't yet write off any eventual impact to Bermuda down the road, but as of now, no impact to land is expected for the foreseeable future.
Invest 99-L May Develop Into a Tropical Depression or Tropical Storm; Southeast U.S. Should Watch Closely

A tropical disturbance near the Lesser Antilles may become a tropical depression or storm. This system will bring locally heavy rain to the northeast Caribbean Islands on Wednesday. This may pose a threat to the Bahamas and Southeast U.S. coast late this week into the weekend.
We continue to monitor Invest 99-L for the possibility of development into a tropical depression or storm as it moves into the Lesser Antilles, then heads in the general direction of the Bahamas late in the week. It's possible this system could affect Florida and other parts of the Southeast U.S. late in the weekend into next week, however uncertainty remains high.
Invest 99-L is one of two systems we are tracking in the Atlantic, the other being Gaston in the eastern Atlantic.
Of that duo, Invest 99-L will be the most impactful in the near-future as it spreads locally heavy rain into the Leeward Islands and eventually Puerto Rico.
The Weather Channel
Approaching tropical wave to bring inclement weather. Watch out for possible flooding and falling rocks
The Meteorological Department of St. Maarten (MDS) reported on Tuesday evening that an active tropical wave approaching the Lesser Antilles will bring showers, some of which may be heavy and possible thunderstorms, to the local region tonight through Wednesday.
MDS advises motorists and residents in areas prone to flooding and falling rocks to be vigilant.
Seas are forecast to deteriorate within the next 24 hours, peaking near seven feet. Small craft operators and sea bathers should exercise caution.
For weather forecasts from the St. Maarten Meteorological Department, visit their website: www.meteosxm.com
To date the remaining names for the Atlantic hurricane season are: Hermine, Ian, Julia, Karl, Lisa, Matthew, Nicole, Otto, Paula, Richard, Shary, Tobias, Virginie, and Walter.
The 2016 hurricane season officially runs through November 30.