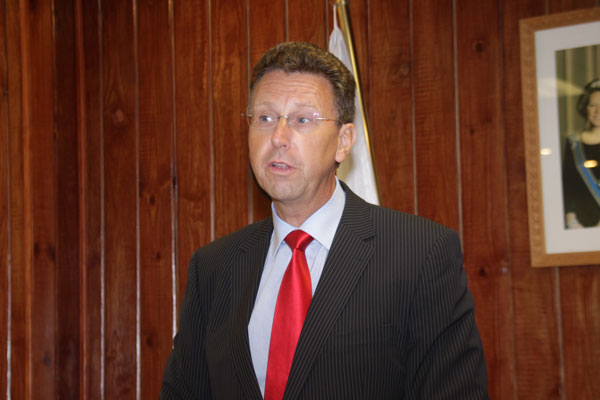 Philipsburg:--- The prosecutor's office has decided to add the two additional murders that took place on Wednesday morning on A.T Illidge Road to the list of murder investigations that are being handled by the Team Grootschalige Opsporing (TGO) said Chief Prosecutor Hans Mos. Mos said that no one was arrested for the brutal slaying of Aric Lake and Kevin Gumbs who was shot to death on Wednesday in the vicinity of Cat's Guest House on A.T Illidge Road.
While the detective department and the prosecutor's office do not know the exact motives for the recent spate of killings they have decided to keep their options open and to allow one team of detectives to investigate all the killings that took place this year and seem to be drug related. Mos said the TGO team is now investigating the murders of Amador Jones, Rodolfo Arrindell, Hector Arrindell, Aric Lake, Kevin Gumbs and the attempted murder that took place in Dutch Quarter involving Omar Jones earlier this year.
When asked if the raids that took place in Fort Willem Wednesday evening had anything to do with the current murder investigations Mos said that he will not say why they raided the homes in Fort Willem. "All I would say at this time is that the judge of instruction permitted the raid and he was also on the scene. We had reasons to conduct the raids and I will not release that information to the media at this time," Mos said. When asked if anyone was arrested during or after the raid, Mos said he will not comment on that either.
In the meantime, residents of St. Maarten are beginning to express outrage and frustration with the increased amount of murders all of which involved guns and violence. Already for the year 2011, nine people have been killed through gun violence. Of the 9 murders, three of them have been solved thus far leaving the investigators with six unsolved murder cases for this year. Those that are unsolved are the Dutch Quarter murder of Emilio De Leon Reyes, Amador Jones, Hector Arrindell, Rodolfo Arrindell, Kevin Gumbs and Aric Lake.
Those that are considered solved are the three regatta killings. The three Dominican suspects behind bars confessed to killing Ludovic Guillevin (the chef of Cheetah Moon), Fiodel Louis (the Haitian Security Guard) and Edwardo Nova Valdez (the Spanish Pastor.) Those murders were committed between February 26th and March 4th 2011.