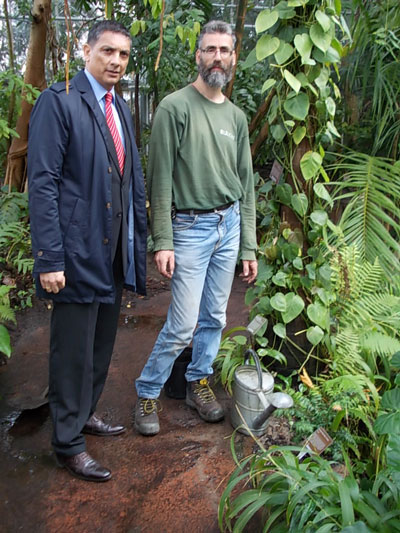 GREAT BAY (DCOMM):--- More than 18-months ago the Sint Maarten Archaeological Center (SIMARC) under the direction of its Director, Dr. Jay Haviser, embarked on a mission to initiate a tree exchange between Sint Maarten and the Netherlands.

With this tree exchange SIMARC intended to symbolize a future of growth and prosperity between Sint Maarten and The Netherlands. For the occasion Sint Maarten's Guavaberry Emporium issued a special 'Sint Maarten-Netherlands Tree Day Exchange 2012' commemorative Guavaberry bottle.

This commemorative bottle was presented to the Chairman of the National Tree Festival Foundation, Onno Hoes, as well as to the Director of the Hortus Botanicus, the present home of our Guavaberry Tree, Taeke Kuipers.

Last week in the presence of Perry Geerlings, the cultural attaché to the Cabinet of the Minister Plenipotentiary, the Guavaberry Tree was finally entrusted to the soil of the Tropical Greenhouse at the Hortus Botanicus in Amsterdam.

With this brief ceremony, the SIMARC Tree exchange program came to a close. An initiative that is to be commended and for which Minister Plenipotentiary, the Hon. Mathias Voges, is very thankful for, on behalf of the Government and the people of Sint Maarten.

This tree exchange program allowed Sint Maarten to profile itself in a different dimension and to a different segment of Dutch society, and we are thankful and appreciative for the initiative and the hard work Dr. Jay Haviser, SIMARC and the Guavaberry Emporium have put into this program, Perry Geerlings said.

Perry Geerlings further mentioned that the Hortus Botanicus is very pleased with their latest addition to the more than 4.000 plants from all parts of the world they have growing in their greenhouses. The Hortus was very charmed by the symbolism of the Tree exchange program of SIMARC.