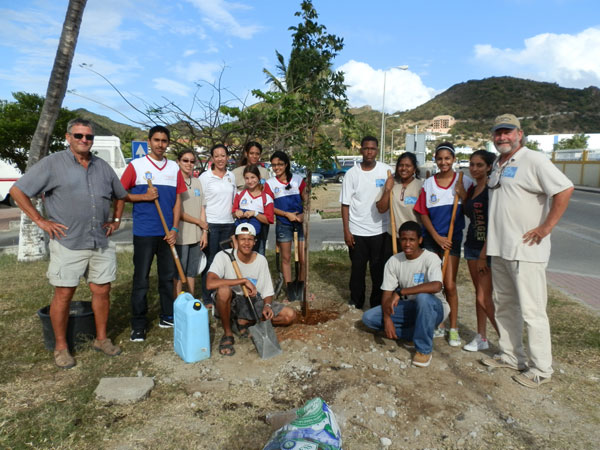 Compared to a 2009 environmental project of four Rotaract clubs in Swaziland which teamed up to plant 1,000 trees at a school in the Ezulwini Valley in an effort to combat deforestation, this effort doesn't seem so impressive. However, the Rotary Club of St. Maarten is extremely proud to be part of the 2012 National Tree Day activities on St. Maarten.

While the official Tree planting took place in the morning by the dignitaries, The Rotary Club Of St. Maarten through their donation of USD 1000 participated in the less formal activity of planting eight Mahogany trees along side the Walter Nisbeth Road opposite the Central Bank.

The project as part of a larger environmental campaign fit ideally into Rotary's environmental areas of service for the 2011-2012 Rotary year. Representing President Rebecca Low of the Rotary Club of St. Maarten was board member Maria Buncamper. Jay Haviser and Chris Maas, SIMARC students and volunteers all pitched in to plant trees which will hopefully become a permanent part of the enhanced environment in the Philipsburg area. SIMARC has been able to secure the maintenance of the trees through Clean St. Maarten which is currently in charge of watering the trees and plants along the road in that area.

Rotary hopes that the community will continue to become more enthusiastic about and involved in National Tree Day in particular and the improvement of our environment in general. Just imagine if every school child planted just one tree every year what a difference that would make to our environment.