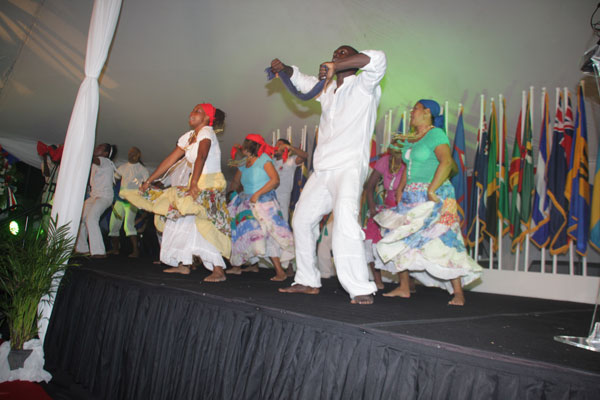 Marigot:--- Despite the late start and the intense heat at the opening ceremony of the Caribbean Tourism Organization (CTO) first State of the Industry Conference on Thursday night, the performers of the cultural presentation left an unforgettable impression on the many dignitaries and visitors that attended the ceremony.
Members from the Imbali dance group, the bottle necks and the Soualiga Capoeria team made sure St. Martin's Culture and the people's friendliness stayed with those that are here to showcase the twin island as the best Caribbean destination.
The night's activities started off with a display of the flags of the 33 CTO member countries of the Caribbean, after which St. Martin's anthem was sung by Malaika Maxwell and Fabian Charbonier.
Attending the official ceremony were dignitaries from the Council of Ministers led by its Prime Minister Sarah Wescot Williams, along with some members of Parliament. Several members of the Territorial Council including Senator Louis Constant Fleming were also present.
Delivering the opening address from the French side was President of the Tourist Office Ida Zin Ka Ieu while Minister Franklin Meyers spoke on behalf of the Dutch Tourist Office. The keynote address was delivered by Honorable Richard Skerrit from the CTO. Skerrit warned that the Caribbean nations do not have to give up on tourism now that the economy is low.
The President of the Collectivity of St. Martin Frantz Gumbs delivered the closing remarks. The nights ceremony ended with a cocktail while the many journalist and television producers were seen getting interviews from St. Martin's dignitaries.

Click here to view the photos of the CTO Opening Ceremony.