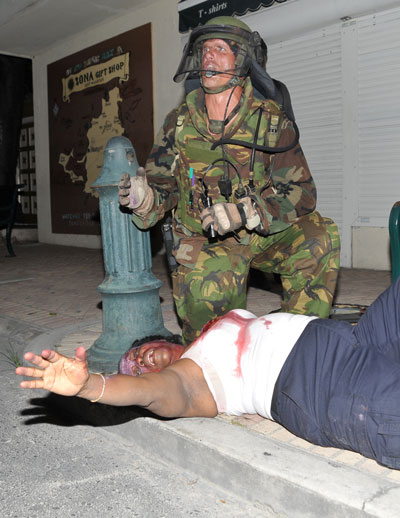 "Hurricane Joseph is approaching the Windward Islands and is expected to pass as a category four hurricane over the islands Sint Maarten, Saba and Statia". Halfway through the hurricane season, this could have been a real life warning. Today, this message marks the start of the annual hurricane relief exercise.
The "battle staff" of the Commander of the Netherlands Forces in the Caribbean, consisting of the main operational players, staff and support services, have met in the operations center at Naval Base Parera in Curaçao. It is in the scenario 72 hours before the simulated hurricane Joseph passes the Windward Islands. There is no request for military assistance, but the assets, including the emergency detachment from Aruba and HNLMS Pelican, are already on standby. In a very realistic setting, the step-by-step planning process is discussed. "Definitely an added value," says the major of marines Roland Melis, staff officer amphibious land operations, "because despite the fact that Defense is in a state of continuous readiness, it is good to go thoroughly through this process again, especially now that we are in the middle of the hurricane season". An understatement, because in real life the ninth tropical storm Isaac is now in the Caribbean north of Curacao and headed as a hurricane category one in the direction of Cuba and Haiti. This hurricane is closely followed by a depression, that in the books will most likely go as tropical storm Joyce.
Different than usual
Assistance before, during and after a hurricane passage is one of the main tasks of Defense in the region. The hurricane relief exercise, known as the Hurricane Exercise, has been taking place every year around early September on the Windward Islands. During the exercise, very realistic scenarios are practiced by the emergency detachment, which consists of marine company from Aruba, the support vessel HNLMS Pelican and disaster staffs of the three islands. Cooperation and exchange of experiences are the keywords. Even though this year this will be the focal point again, but the Hurricane Exercise of 2012 will have another character. The emphasis will lie more on supporting and facilitating the island disaster and emergency staffs in the implementation of their plans. On Saba and Statia the exercise includes a simulated plane crash and evacuation of civilians.
The Hurricane Exercise starts Monday, August 27 and lasts to Tuesday, September 4.