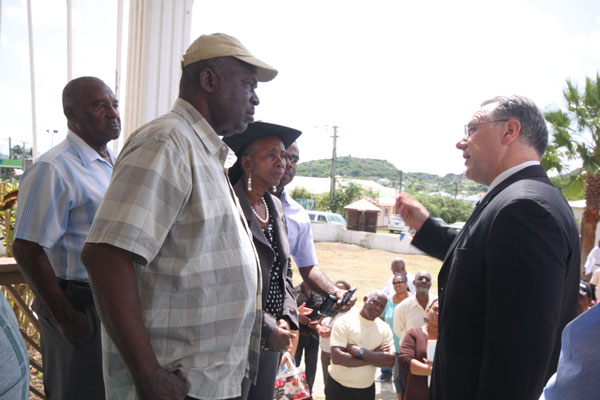 French Quarter:--- The President of the Willing Workers Association Leopold Illidge who resides in the United States and is currently on the island took the opportunity on Monday to speak with Prefet Delegue Philippe Chopin about the French Quarter Cultural Center which was closed some two years ago by the former Prefet Jacques Simonette for security purposes.

Illidge told the Prefet that he was glad that he took the time to visit French Quarter and to particularly meet with the landowners at the Culture Center because it is closed for security reasons. Illidge said that the building was constructed by St. Martiners living in the United States and has an Association called the Willing Workers.

Prefet Chopin said the building was closed for security purposes but the group needs to meet with him to further discuss the reason for the closure. Chopin said that repairs have to be done on the building before it could be re-opened. Chopin further explained that they already know what is wrong with the building but the owners of the property have to show interest and make an effort to meet with him and let him know what they can pay for and what they need assistance for when it comes to repairing the building. Chopin said that the French Quarter Culture Center has been closed two years now and to date no one has made an effort to conduct the repairs or even to meet with the State representatives to make their case known.