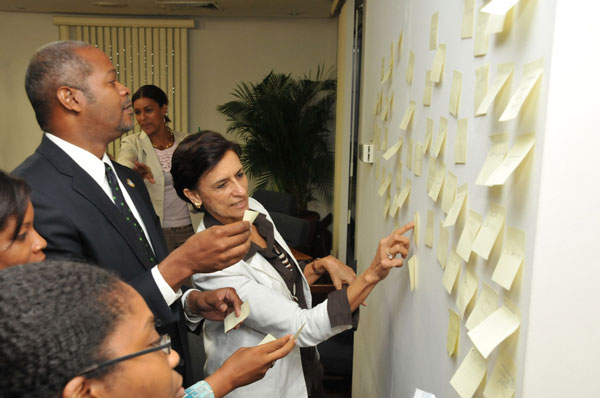 Great Bay (GIS):--- The Ministry of Public Health, Social Development and Labor had a kick-off meeting and warm up session for the members of the Community Help Desk and Integrated Neighborhood Development Program at the Government Administrative Building.
This integrated program is a first of its kind, where the various government departments and agencies come together to provide services on behalf of the same target group/ persons within our community.
These projects are meant to assist the community from the initial stage that the person makes contact with government organization.
Present at the meeting were Prime Minister Sarah Wescot-Williams, Minister of Health, Social Development, and Labor Cornelius de Weever, Program Manager Joy Arnell, and project management team members, and members of the different departments that will be working in this integrated manner, namely, Labor affairs, Social services, Community development, Family and Humanitarian Affairs and Police, amongst others.
Prime Minister Wescot-Williams made her stance and Governments future intentions known. "Community Development is top priority for this government. This program transcends ministries. Previously social development focused on economic development like jobs, but now it has a more social element and is also more integrated, where more ministries are involved, like Justice, Economic affairs, Infrastructure, Education, Youth among others."
Minister De Weever agreed and offered additional remarks:
"Change has to come; and it (the change) is inevitable," when addressing community issues from an integrated approach.
"Our inefficiencies and short comings will be made visible but we must persist, we must move forward with determination to do and accomplish what we have set out to do. The community depends on us. We cannot let the people down. We must commit ourselves to go out and communicate and assist people with their problems, issues, and situations."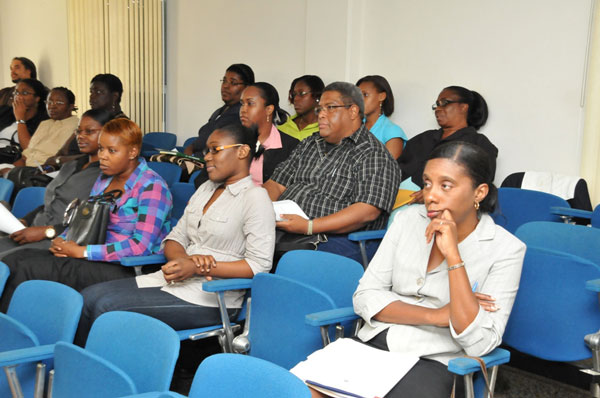 Joy Arnell, project leader said that after years of discussing and debating social solutions for the ills of society, persons can now get a more holistic assistance and intimate support concerning their issue or situation. With an integrated approach to providing assistance for the community, there is an invigorated hope.
The aim is to bring social services to the people in a central, low-threshold location, services will be provided in the community, thus eliminating transport costs and long waiting lines. It will be more client-focused and enhance personal interaction, it will be both preventive and curative.
The Community Help Desk and Integrated Neighborhood Development Program had a base study, from which recommendations and policy will be derived in order for there to be sound basis for the community program that will follow.
The pilot study was conducted in St. Peters, where the needs of the people in the community and the social agencies were assessed and also community stakeholders were looked at.
The results were as follows: though the area has some problems, people are generally content to live in the area of St Peters; most crucial problems: lack of activities to raise children and youngsters; parenting programs; isolation of elderly, housing conditions; sewage issue; among other situations that need to be addressed.
Within short, the program shall officially begin in St. Peters.