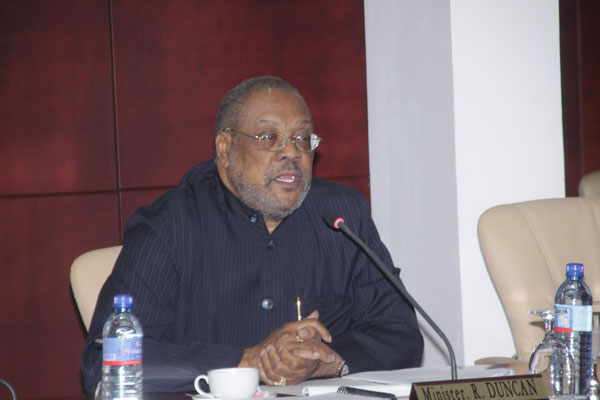 Philipsburg:--- Justice Minister Roland Duncan informed Parliament on Friday during a Central Committee meeting that he intends to charge NAF. 900.00 to process residency permits. Minister Duncan said he already submitted a draft change to the Admittance and Expulsion law to the Council of Ministers which still has to go the Council of Advice for vetting. The Minister said when this new law is implemented then he would be able to raise as much as 4.5 million guilders for his Ministry's budget. Minister Duncan also said that his Ministry intends to charge people for other services that are granted by his Ministry and is currently free of charge. Persons who request permits to have police work overtime would have to pay a fee for the services that will be granted. All of this he said will take place when the legislations are changed.
While not giving much detail on the amendment of the law, Minister Duncan said he was expecting discussions to take place on the issue.
The Minister also confirmed that persons who were granted a residency permit does not have the right to legal aid and social assistance based on a clause that is within the permits. He said he is of the opinion that persons who are in possession of permanent residency should be able to acquire legal aid. He said he is also of the opinion that persons with permanent residency should be treated equally to the Dutch citizens. However, his opinion is not shared by the labor Ministry. He further explained that he is of the opinion that person's that are married to Dutch citizens should not have to renew their residency permits annually and they too should have access to legal aid. The Minister said his Ministry is also reviewing some of its policies some of which will have radical changes.
The Minister made the clarification after Member of Parliament George Pantophlet asked him for clarification on the clause that is on residency permits. Minister Duncan explained to Parliament that currently one person from the Ministry of Justice is meeting with persons from the labor Ministry to find a solution to the problem.
Several Thousands will be left Illegal BTA did not Solve Immigration Calamity.
The Minister of Justice also announced to Parliament that St. Maarten will have to find solution and take a decision very shortly as to how they will deal with several thousands of people who applied for Brooks Tower Permits. The Minister gave the response to parliament after Member of Parliament Frans Richardson asked him for an update on the BTA process. Member of Parliament Richardson said the Minister has to give clarity on the Brooks Tower Accord 2 which was placed on hold after an investigation began late last year.
Minister Duncan said the committee already vetted all the dossiers that were before them and already they have indicated that several thousands of people will not get the permits, especially those falling under category 2 (2005 and after). Minister Duncan said there were just over 2000 dossiers that had to be vetted and more than half of them will be rejected.
Minister Duncan said that he also got information from the committee which indicates that some companies signed for people while those companies are not providing work for the people they signed for. He said there are not many companies that are involved in the practice but his Ministry still has to decide on how they will deal with the delinquent companies. Minister Duncan said he has no intention of re-opening the Brooks Tower Accord (BTA) procedure but a solution he said has to be found since the BTA did not solve St. Maarten's immigration problem.
Minister Duncan said there are people who have been living on St. Maarten for more than 20 years and they did not take the time to apply for the BTA permits. The Justice Minister made clear that he is not creating an alarm but this was one of the reasons he felt people who did not apply the first time when the BTA was launched should have had the opportunity to apply during the renewal period but his idea was misconstrued back then. St. Maarten he said though will have to prepare to deal with a few thousand illegal people in the near future.
Kingdom Partners Not willing to Assist St. Maarten with Prison Space.

Minister of Justice Roland Duncan told Members of Parliament on Friday during a Central Committee meeting that St. Maarten has a huge problem to deal with since none of its Kingdom Partners are willing to assist the island even though there is a signed agreement in place to assist each other with prison space should there be the need.
The Justice Minister said he made several requests through the Attorney General to the Netherlands and Curacao but so far he has seen several reports none of which is in favor of assisting St. Maarten with much needed space.
Minister Duncan said he was told that it would be too expensive for St. Maarten to send prisoners to the Netherlands since the cost to St. Maarten would be Euros 233.00 per day while the Netherlands basically said they do not want anymore criminals from the islands in the Netherlands. He said he was advised to check with Curacao and Bonaire as well as to see if it was possible to send these prisoners to the prison ships. As for Curacao, he said they claimed that they too do not have space but that he said is not true. The Minister said the problem facing Curacao is the lack of sufficient personnel and repairs have to be done at certain facilities.
"Curacao went as far as giving me a bill for the 12 St. Maarten prisoners that are currently there. The Justice Minister wants Naf.180 per day for each of the prisoners that are currently there. However, Curacao did not say when they will pay St. Maarten for keeping the six prisoners that is housed on St. Maarten for Curacao." Minister Duncan said that each time a person is arrested, the prosecutor's office is confronted with having to find space for the prisoners.
Minister Duncan said he did not send a bill to Curacao but he sent the bill Curacao presented to St. Maarten to the Attorney General. The Minister said the agreement that was signed is not being executed and in his opinion the Kingdom Partners are not functioning.
Minister Duncan said he was criticized for not finding a solution for the lack of prison space but he has petitions on his desk for the BOX in Cay Hill and for the Simpson Bay Outpost.
Member of Parliament Ruth Douglas asked the Minister if it was possible to introduce "bail" on St. Maarten and if this would create more revenue for the Justice Ministry. The Minister said he is willing to see if St. Maarten could introduce the bail system since this would assist with creating prison space.
Donner Threatens to take St. Maarten's Justice Minister to the Kingdom Council of Ministers.

Persons travelling through St. Maarten's Airport (PJIAE) should know that their personal information is being shared with Curacao's immigration as well as the Tourist Office of Curacao announced Minister of Justice Roland Duncan. The Minister also acknowledges that Curacao is invading people's privacy by sharing such information with their Tourist Office.
Minister Duncan said the ICT for the Justice Ministry which is the Border Management System (BMS), Foreigners Management System (FMS) and other software that is used by the public ministry, Court of Guardianship, is managed by Curacao. He said the servers are on Curacao and St. Maarten has terminals that feed their information to Curacao. Minister Duncan said he refused to sign an agreement which would allow the servers to remain on Curacao. He said he requested copies of the software so that St. Maarten can manage its own information but Curacao and Minister Donner has threatened to take him before the Kingdom Council for refusing to sign the agreement.
Minister Duncan said he has no problem sharing information with Curacao but he does not think that St. Maarten should remain dependent on Curacao to process its passengers when they arrive on St. Maarten. He further explained that processing these passengers take up unnecessary time since there are times when the servers move extremely slow. Duncan said St. Maarten is co-owner of the software and he informed Minister Donner of this in June 18th when they had a discussion on the matter, therefore St. Maarten is entitled to it. He said he asked for copies of the software so that it can be managed here.
The Minister said St. Maarten has the Franco Dutch Treaty while there are agreements with Anguilla that Curacao should not be concerned about. Minister Duncan said St. Maarten also wants to allow persons who apply for residency permits and gun permits to track their requests online since these are all web programs. He also explained that the Minister of Justice is responsible for people's privacy, he cannot guarantee ones privacy if their information is shared with another country.
Other issues discussed at Friday's Central Committee meeting is the duties of the Coast Guard, the radar station, the processing of police records, purchasing of police cars, the hiring of Marechaussees and Marechaussees in immigration booths, and the use of the crime fund which is still to be divided and the camera surveillance system.