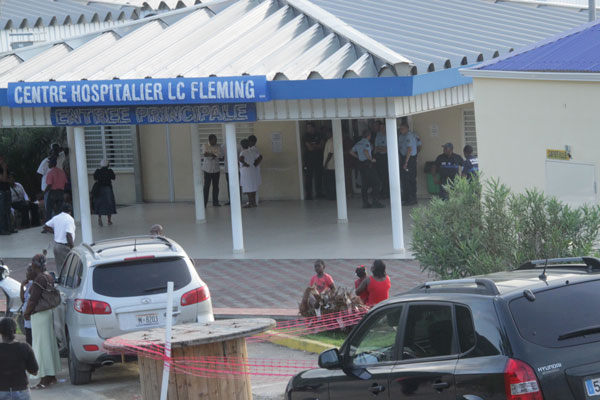 Marigot:--- Relatives of a 21 year old man identified as William Jeune held the Louis Constant Fleming Hospital hostage for quite a few hours on Wednesday afternoon when they learnt of the young man's death. Several Gendarmes and Territorial Police were called to the scene to bring about order when some of the angry relatives and supporters began throwing rocks at the building. Workers who were about to leave the hospital could not leave the premises as the Haitians nationals converged on the scene.
A close friend to the family said the young man is a French national since he was born on St. Martin to Haitian parents. She said about a year and a half ago William was sent to Martinique where he did a biopsy and he was supposed to be sent to France for a liver transplant but that never happened. The woman said the young man was the holder of a French passport and he was covered 100% by Social Security. The woman who spoke to SMN News anonymously further explained that while William's health must have degenerated over the past year causing other complications with his heart and lungs the family is mostly upset because when William passed away no one from the hospital informed the parents. She said his father slept with him Tuesday night and on Wednesday afternoon when he went to visit his son he found him dead on his bed. "All of the machines that he was hooked up to were removed and they placed his hands across his chest". The father walked in and saw his son like this and when he asked what had happened someone reacted very rudely to him. Later they asked him for the young man's mother who was not yet on the scene. The woman said the doctor who was caring for him jumped on his scooter and left the premises without saying one word to the relatives.
The relatives on the scene were heard saying that the hospital killed William because the young man was suffering terribly since Tuesday. They said William was diagnosed with liver disease two years ago and if he was sent to France he would have been alive. Another friend of the family said the young man attended a training program all week last week even though he knew he was scheduled to leave for France since his parents were making the necessary arrangements to send him for further treatment. She said when he fell ill on Saturday the family called for an ambulance to transport him to the hospital and they were told that there are no ambulances available. "His father had to put him in his car and drive to the doctor's office in Concordia who later admitted him to Louis Constant Fleming Hospital."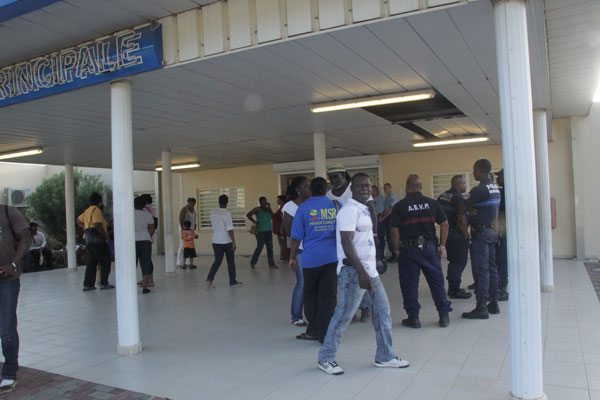 Some locals felt the Haitians were over reacting and the only reason they were holding the hospital hostage was because the State allowed it by having expatriates living on social welfare on the French side.
Father of the victim Yves Marie Jeune in an interview with SMN News said his son was ill for the past two years with a severe liver disease and he has been seeing Dr. Vassell for his illness whom he said has been treating him. The bereaved father said he asked the doctor on several occasions to repatriate his son to France for further medical treatment but the doctor he said kept telling him today or tomorrow. "In my view the doctor refused to send my son to Paris for better treatment. He promised us that he will look for a hospital in Paris which he never did. When I saw that the doctor was not willing to help my son I asked my other son who is currently living in France to contact some doctors in Paris and to see if they are willing to admit my son there. My son spoke to two doctors in France and they both gave him their fax numbers and said Dr. Vassel should fax over my son's medical file but he never did," the elder Jeune said. The father said this past week he bought a ticket to send his son to France for better Medicare but the his son took in on Saturday and he took him to see his doctor who immediately admitted him to the Louis Constant Fleming Hospital.
The father said during the weekend when his son was hospitalized, he begged the doctor to repatriate his son to France but everyday he was saying "tomorrow". The father said on Wednesday morning the doctor finally decided to send his son to France but by afternoon his son was dead.
Another relative; Catherine Joseph said on Tuesday she visited her cousin at the hospital and he was suffering and they called the nurse who told them that he should remain sitting. Joseph said they told the nurse that William could not lie down neither could he sit since he was having severe pains in his stomach but the nurse told them that his condition was not serious. Efforts made to obtain a comment from the hospital management proved futile on Wednesday evening.
Click here to view more photos of Hatians at LCF Hospital.