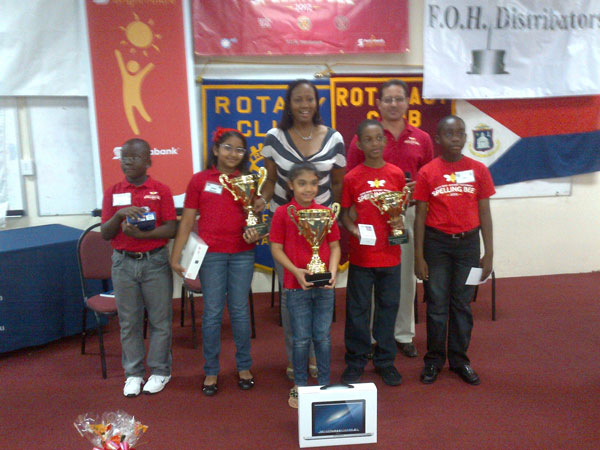 GREAT BAY (DCOMM):--- Minister of Education, Culture, Youth Affairs, and Sports Hon. Silveria Jacobs, attended and spoke at the Seven Seas Spelling Bee on Saturday November 3rd, 2012.
Representatives of the primary schools on St. Maarten participated in the spelling bee. The winners of the spelling bee are Rakisha Ramchandani and Disha of the MAC Browlia, respectively placing in the 1st and 2nd place.
The 3rd place was awarded to young Fleming of Learning Unlimited. The top three finalists received gold cups and the most supportive school received a multi printer.
In addition many educators were awarded prizes throughout the day for their participation in a mini spelling and St. Maarten trivia competitions.
Minister Jacobs commended the participants, teachers, schools and parents who supported this effort by the community minded Rotary Mid Isle, Rotaract Sunrise and corporate sponsors. This was an excellent example of cooperation to benefit our youth and education.