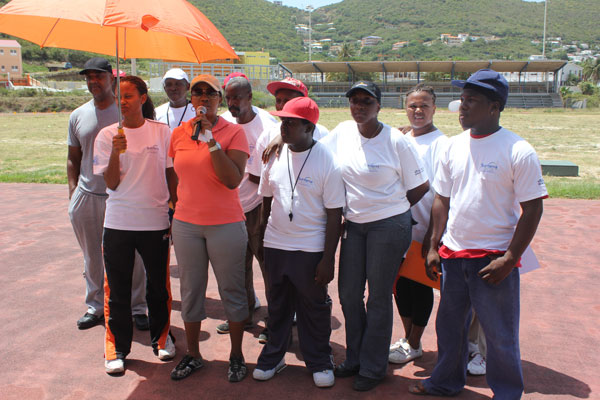 GREAT BAY (DCOMM):--- Minister of Education, Culture, Youth Affairs and Sports Hon. Silveria Jacobs was present when several high school and elementary school students converged on the Raoul Illidge Sports Complex to represent their schools in a warm up Interscholastic Track and Field meet.
The meet was the initiative of Les Brown and his group of volunteers.
Minister Jacobs applauded the efforts of all involved and noted with pleasure the amount of students who are interested in keeping themselves positively busy with activities that build their bodies, mind and spirits.
In her opening speech on both days (Saturday for High Schools, and Sunday for Elementary Schools), the minister pledged her undying support to all budding athletes, as well as government's obligation to get the facilities in a condition worthy of St. Maarten athletes.
All four sporting facilities are scheduled to be repaired, and the Ministry is planning a year of events geared towards training and competing in various sports.
The minister also reiterated that her vision encompasses making it possible for each child to have the opportunity to develop to his highest potential in academics, sports as well as cultural and artistic development, by incorporating these aspects into the afternoon curriculum of schools.
The students of the various schools taking part in this event were encouraged to push hard to win, but win, lose or draw to show sportsman like behavior.
"Just by being here today to represent your schools makes you all winners!" Minister Jacobs commended the young athletes.
Parents were also encouraged to continue to come out in support of their children.
The Minister believes that keeping our youth positively engaged will lead to a happier, productive and a more positive future for all of us here on St. Maarten.